Secrets 3.2
Out at last, out at last, Secrets 3.2 is out last!
This release is a bit tardy but I believe the wait was worth it. This update focuses on iOS 13 and macOS Catalina specific features but also includes many other noteworthy features. So lets get to it!
Dark Mode
iOS
Arguably the most anticipated feature of iOS 13. Since adding Dark Mode to Secrets for Mac last year, you have definitely made it clear you wanted the same on Secrets for iOS. We heard you… but we were also expecting Apple to add support for it this year with iOS 13 😉. And we were right!
So finally, Secrets for iOS joins its macOS counterpart with new, beautiful, dark themes!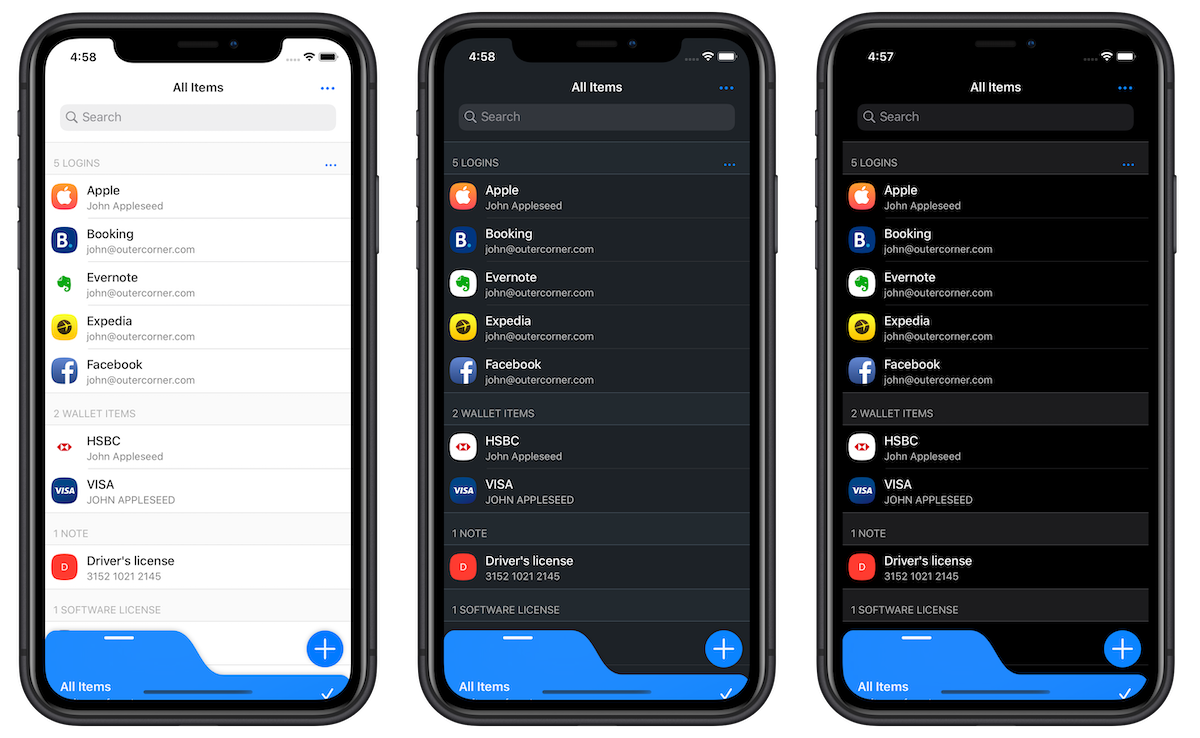 Yes, themes… plural. We've added two new dark themes to suite everyone's taste. The new Dark theme -- my favorite -- uses a few shades of gray with a just a hint of blue and is really easy on the eyes. The Black theme uses Apple's palette for Dark Mode making Secrets fit right in with the rest of your apps.
And to celebrate all this darkness, we've also added a new dark version of the app icon just for fun 😊. But you'll have to open the app's Settings to check it out.
Unlock with an Watch
macOS
Secrets for Mac could already be unlock with Touch ID on compatible Macs. With macOS Catalina, Apple has added the ability to use your Watch to authenticate yourself and Secrets takes full advantage of that!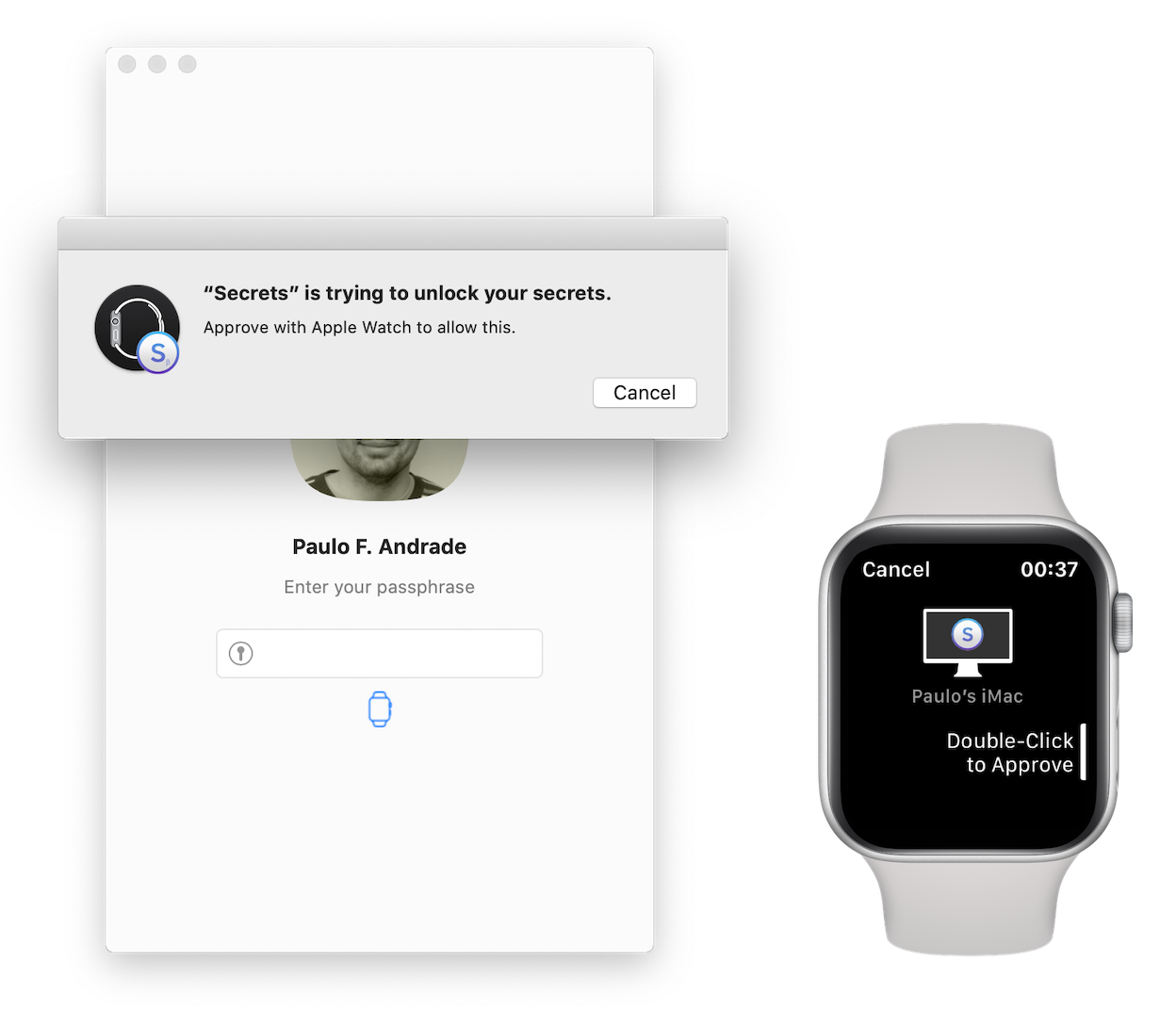 Now, instead of typing in your long passphrase (you're using a long passphrase, right?!), you can simply double-click your watch's side button to unlock.
Siri Shortcuts
iOS
We introduced Siri Shortcuts with Secrets 2.8 last year. This year, Apple made Shortcuts much more powerful with the ability to return results from custom actions.
This release adds a new Search Secrets action you can use as a step on your own shortcuts.
For example, one request that pops up now and again is the ability to auto-fill credit cards onto webpages. Unfortunately, iOS's Password AutoFill feature only works on logins, so you still had to copy and paste your credit card details from Secrets. Fortunately, with with the new Search Secrets action we can do this ourselves with a simple shortcut!
What you're seeing in the video above is a shortcut that runs on Safari webpages, searches Secrets for credit cards items, asks you which of the cards you want to use and finally auto-fills the card details in Safari. Pretty neat! Here's a link to the shortcut so you can try it out yourself.
Additional browser support
macOS
Secrets already had support for the most popular browsers. With this version we're now adding the Brave Browser and Firefox Developer Edition to the roster.
As some of you may have noticed, you could already install Secrets's extensions on them but they wouldn't actually work… Secrets would still think it was talking to Chrome or Firefox. Well… no more!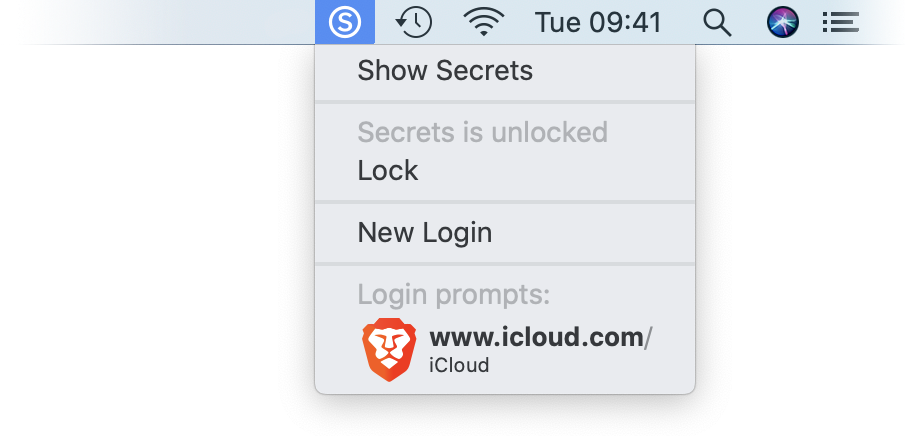 Secrets will now understand that it's in fact talking to these browsers and work as expected.
Accessibility improvements
iOS
"Improvements" might be an understatement… We've added support for Dynamic Type, VoiceOver and Voice Control.
Dynamic Type: Secrets will now honor the text size preferences you set on the Settings.app. Including the larger accessibility sizes.

VoiceOver: We've reviewed all screens so that they're friendly to VoiceOver users. Your device will now be able to read the Secrets user interface and perform all actions.

Voice Control: New in iOS 13 is the ability to control iOS with just your voice. This is an impressive feat by the accessibility team at Apple, and we're proud to say can now also control Secrets with just your voice.
As always, we love to hear from you, so let us know what you think via e-mail or on Twitter.